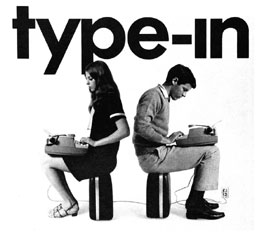 This image from Smith-Corona advertising during the 1960's is probably the earliest reference to the idea of the Type-In, the practice of gathering together with our typewriters and celebrating our machines and what we create with them. The New York Times records that Mike McGettigan's First Philadelphia Type-In on Dec 18, 2010 was the beginning of modern Type-Ins. Since that time, there have been Type-Ins held in several states of the Union and in countries all over the globe.
If you'd like to know even more about the history of the modern Type-In and how you can hold one yourself, consult Phillytyper's advice here.
The term "Type-Out" was coined by Tom at Cambridge Typewriter in MA to refer to the practice of having a Type-In outside in the sunshine. The first such Type-Out was held in front of Cambridge Typewriter on Oct 22, 2011.
---
History of the Modern Type-In:
American Type-ins:

The First Philadelphia Type-In was the first organized Type-In, held on Dec. 18, 2010 and organized by Michael McGettigan.

Some links for the Philadelphia Type-Ins:

Phoenix Type-Ins
We've had 4 Type-Ins in Phoenix:

The First Phoenix Typewriter Round-Up & Type-In @ Hula's Modern Tiki, Saturday March 5, 2011

Other US Type-Ins
There have been other type-ins all over the United States:

There was a Type-In in Snohomish, WA in February 2011:

There was apparently a Type-In in Utah in April 2011:

There was a Type-In in Tacoma, WA May 1, 2011

There was a Type-In in Los Angeles, CA on May 22, 2011

There was a Type-In in Cincinnati, OH on July 2 2011

There was a Type-In in Seattle, WA on July 30, 2011

There was a Type-In in Staten Island, NY in July 2011:

There was a Type-In in Venice, CA in 2012:

There were Type-Ins in Cambridge, MA on Oct 22, 2011 and June 9, 2012

There was a Type-In in Madison, WI on June 23, 2012

There was a Type-In in Beaver, PA on February 23, 2013:

There was a Type-In in Manhattan, NY. on April 21, 2013:

Swiss Type-Ins:
On Sept. 10, 2011, the Swiss typosphere got into the act and held a Type-in in Bern:

Additional Type-Ins have been held in Geneva, Basel, Lugano and Zurich. This page contains links to the reports:

There was a Type-In in Estonia on February 13, 2013:

There was a Type-In in The Netherlands on March 9, 2013:

A second Type-In in The Netherlands was held on April 13, 2013:

There was a Type-In in Australia on March 10, 2013:

There have been a few others that probably have escaped my memory.

A documentary: "The Typewriter (In The 21st Century)", partly filmed at the 2nd Phoenix Type-In and the Los Angeles Type-In: